Ocean Front Villa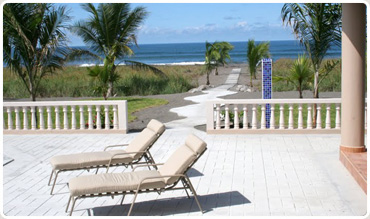 Ocean•Front

(o'shén-frunt') noun; land, buildings, etc. along an ocean shore; adjective; of, at, or near the oceanfront an oceanfront villa

HG TV House Hunters International will be featuring this villa on an upcoming episode. They visited Panama and the Las Olas Resort area of Playa La Barqueta in Panama in August. Be sure to check the schedule on the HG TV web site for the dates it will air. Be one of the first to stay in this popular villa, "As seen on TV!"

Las Olas Villa 6 or "Casa De Playa" is an Ocean Front Villa. If you desire to be ON the ocean and not "near" the beach or ocean, this is the villa you have been looking for. The back yard has your private in-ground pool and the Pacific Ocean.

If you want a vacation that is away from it all, but to still have a luxurious place to stay, this villa is it! With the live in care taker ready to supply you with everything you need to make your vacation a pleasure to be on, to the daily maid service to keep your accommodations fresh to the ocean side deep tissue massage service. There really is no other way to vacation. Panama has so much to offer, why not experience in the lap of luxury.

This 4 bedroom 4 bath villa was built for the perfect vacation in mind. Relax by the pool, stroll the endless beaches of Playa La Barqueta, in the Province of Chiriqui in the Republic of Panama.

View our PHOTOS to see all we have to offer... Panama and Las Olas Villas are waiting for you. Book your trip of a lifetime today in your private beach front luxury villa. You can book this villa online or call us with questions. We are standing by to make sure your vacation in paradise is just that!

Book Now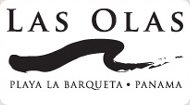 Las Olas Resort
Las Olas Resort in the Republic of Panama at Playa La Barqueta is the corner stone of this community. Guest at the Las Olas Villa will be able to enjoy the amenities of the resort during your stay. Dine in one of the resorts restaurants, swim in one of the pools, work out at the exercise facility or enjoy an ice cold Margarita at one of the bars.

The resort is only steps away from our villa. Stop by Las Olas Resort during your stay. You will enjoy your time there.
Book this Villa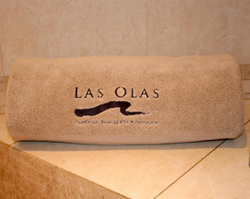 Feel confident in our secure online reservation system. We provide an easy online booking solution so your vacation is only a few clicks away. Simply click on the dates you want to book, select any optional services you may want while you are on your Panama Vacation of a lifetime, and book this villa online.

We will be in touch quickly to confirm your reservation and send you the needed documents. You can always CONTACT US first if you have any questions about our Las Olas Villa or about the Republic of Panama in general. We look forward to having you stay in our beachfront Panama Villa at Las Olas Villas.



Watch this villa on HGTV here. The full show is shown below. Takes a few seconds to load.



House Hunters International Ohio Family in La Barqueta Panama from anthony arauz on Vimeo.